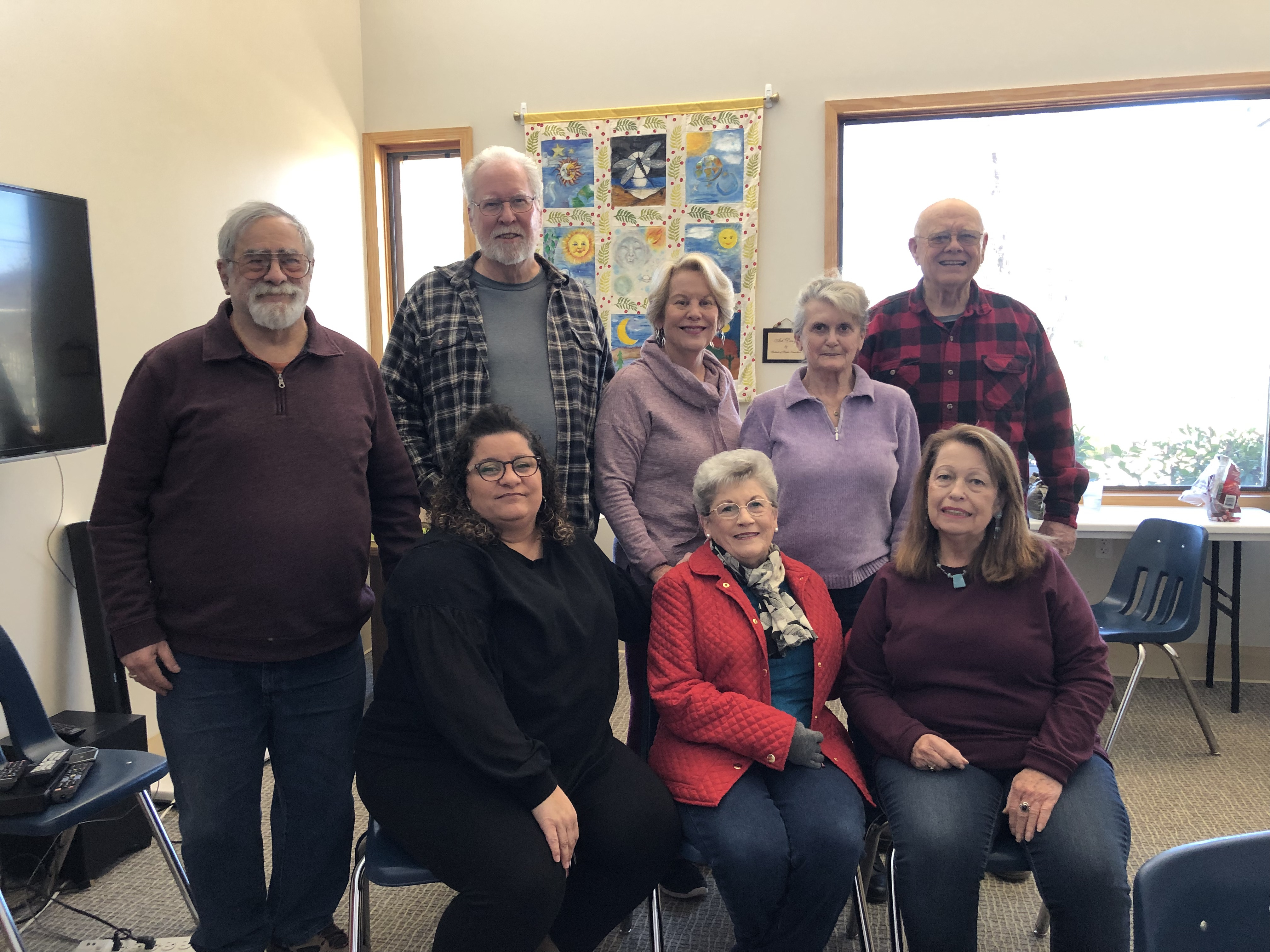 MEET THE 2019 BOARD MEMBERS
Front Row: Nance Simon, Barbara Castaldo, Kathy Roberts
Back Row: Jon Meyer, Jim Jackson, Jacque Spiker, Jan Lickliter, Bob Olsen

February 19, 2019
I. Chair, Kathy Roberts, called the meeting to order at 1:02 p.m.
II. The Pledge of Allegiance was led by James Jackson.
III. Roll Call was taken by Board Chair, Kathy Roberts.
Members present: Kathy Roberts, Jacque Spiker, Jan Lickliter, Nance Simon, Jon Meyer, Bob Olsen, James Jackson, and Barbara Castaldo
Absent: None
Staff: Lori Tourville and Rilla Krall
Public: Chrissie Handy and Leighton Alt
IV. Minutes for January were approved as presented. Jon/Janet
V. Financial report for January was approved as presented. Nance/Jacque
Electronic payment report was read and approved. Jacque/Nance
VI. Correspondence: None
VII. Committee/Member Reports:
A. Jacque Spiker began Board Members training with "Conduct Policies for Board Members". Members to study and return next month with any questions or
suggestions. These P & Ps are to fomalize member duties.
B. Nance Simon has started the planning phase for the float for the Middletown Days Parade.
VIII. Public Comments: None
IX. Director's Report:
A. Fundraisers:
1. Dinner and Silent Auction netted $1,800.
2. March for Meals scheduled for March 23rd. Lori has crafters signed up. The "Pickle Man" will have a booth.
3. Fifth annual Chili Cook-Off is scheduled for May 18th. The Thorntons are chairing the event, perhaps for the last year.
B. Shed: Jon moved, and Nance seconded the motion to authorize the purchase of a storage shed (10' x 12", $3,700) to be installed on the premises. Passed.
Lori to check on the possibility of obtaining a grant. If not available, perhaps have a fundraiser specifically for the purchase of a shed.
C. K-LOVE: To post our events in their community calendar.
D. Lori presented the end of the year report.
E. 403(b): Jon moved, and Nance seconded the motion, to authorize Lori to set up a non-matching 403B. She will, also, set up a date for the Board to meet with the Mutual of America agent. Will explore the possibility of the Center matching 3% payable after five years of employment.
F. Board photo: Photo taken.
X. Unfinished Business:
A. Matching Funds: Face Book "Match Tuesdays" hosted a fund-me page for non-profits. Nance Simon will check on its progress.
B. Emergency Food Bags: Delivered
XI. New Business:
A. Barbara Castaldo will chair the next Board meeting as Kathy Roberts will be absent.
B. New Board members to be seated in May. If anyone is aware of interested candidates, let the Board know. Perspective candidates should attend a meeting.
XII. Adjourn: James Jackson moved, and Nance Simon seconded the motion, to adjourn. Meeting adjourned at 2:27 p.m.